June 7, 2023
June 15, 2023
June 16, 2023 This class will be a hybrid. Some will be online and some will be at the Courtyard Marriott - Marlboro, MA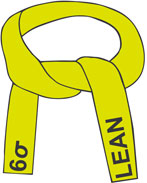 Join our Lean-Six Sigma Yellow Belt course This is a 3-day training program in the suburbs of Boston, MA. Class runs daily from 8:30AM to 4:30PM.
Participants experience and learn the Lean-Six Sigma philosophy and basic tools in this multi-media course. Our experienced instructors combine hands-on exercises, classroom teaching and video to fit different learning styles and to customize the class for the participants. Their experience allows them to share best practices and answer questions over a breadth of industries.
ROI for this training is usually three months or less.
There is no project required for the Yellow Belt program; however, we encourage Yellow Belts to be part of a Green/Black Belt Project team.
Yellow Belt Course Outline
Define Phase

Lean-Six Sigma Introduction
Lean-Six Project Charter

Measure Phase

Voice of the Customer (VOC)
Basic Statistics
Introduction to Minitab 18
Introduction to Process Capability (Cpk/Cp)
Introduction to MSA, Gage R&R
Process Mapping

Analyze Phase

Root Cause/Corrective Action Problem Solving methodology (RCCA)

Improve Phase

Introduction to Design of Experiments (DOE)
Introduction to Manufacturing Flow Lines

Control Phase

Introduction to Control Charts
Poka Yoke
Case Studies

Yellow Belt Quiz
Six Sigma plus Lean Yellow Belt Training is $1,595 /person.
Make Quantum Leaps in Efficiency and Profitability!
Would you prefer customized training for your company?
Quantum Leap Engineering (QLE) consults and develops customized Six Sigma plus Lean training programs to teach your workforce. Call Sean at 508-954-0185 to discuss what you need.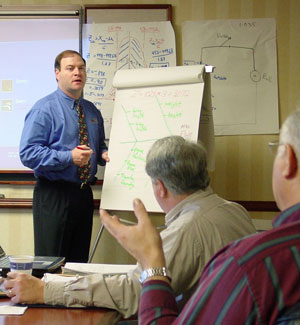 Experience the Quantum Training Difference
Our experienced instructors each have 20-30 years in the field and a Masters or PhD degree
We offer highly interactive, hands-on teaching including multi-media
We customize the material for client needs
We teach using statistical software, so that students have the statistical experience that the industry prefers
A personalized approach that continues after the class
Quantum Leap Engineering is very effective both at teaching the continuous improvement tools and working with the company to implement the changes. Our management demands ROI and that's what Quantum Leap Engineering delivers.

– Plant Manager