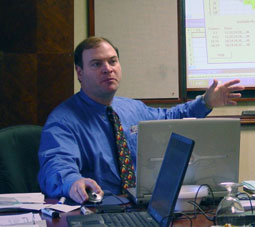 At Quantum Leap Engineering (QLE), we do not just teach Lean Six Sigma and Statistics – we become your strategic partner and work with you to find solutions. Our training is customized-using the Rubik's Cube as our logo-we rotate the cube to your needs and bring ROI and results. We do not come in with a "Canned Program";we personalize the training based on the Voice of the Customer (VOC). We also work with the students on their Lean Six Sigma Projects-Black Belt for Hire.
Through a combination of hands-on exercises, classroom teaching and videos we provide substantial, real-world training to fit different learning styles. Since industries are looking for students with stats training, we also use statistical software within the training.
Each of our experienced instructors has 20-30 years in the field and holds a Masters or PhD degree. Their experience allows them to share best practices and answer questions over a breadth of industries.
A Sample of Classes taught in House are as Follows:
Lean-Six Sigma Programs (Master Black Belt, Black Belt, Green Belt, Yellow Belt, White Belt, Champion Training)-(DMAIC/DMADV)
Design for Excellence (DfX-I2DOV2)
Leadership and Team Building Training (DiSC Analysis, 360 Analysis, Conflict Assessments)
Lean Programs
Applications for Automated Equipment (Flexible Manufacturing Systems (FMS), Robotics, Vision, etc.)
Design of Experiments (DOE)
Reliability Training
Kaizen Events
Kata Training
A3
3P Events (Production Preparation Process)
Process Validation for Medical Device Industries
Statistical Methods Training-using Statistical Software
Statistical Process Control (SPC)-using Statistical Software
Acceptance Sampling Plans (AQL)-using Statistical Software
We also can work with you to submit training grant (State and Federal Grants) for Workforce Development up to $ 250,000.
Call 508-954-0185 or email info@quantumleapengineering.com for more information or to request a quote.
We learned a tremendous amount from your training. The Six Sigma projects were a great way to apply the tools and save the company money immediately-3 month payback.
– Vice President of Operations